Dell N3048EP 1GB Power Switch 210-AOFM
Technical Specifications
Product: Dell PowerConnect N3048EP
Switch layer: L3
Basic switching RJ-45 Ethernet ports type: Gigabit Ethernet (10/100/1000)
Basic switching RJ-45 Ethernet ports quantity: 48
Installed SFP+ modules quantity: 2
MAC address table: 16384 entries
Switching capacity: 260 Gbit/s
Networking standards: IEEE 802.1D,IEEE 802.1Q,IEEE 802.1ab,IEEE 802.1p,IEEE 802.1s,IEEE 802.1v,IEEE 802.1w,IEEE.. 
Power connector: DC-in jack
Rack mounting Form factor: 1U
Features & Design
Modernize your network
The N3000 Series offers high-availability GbE switches with easy-to-manage solutions that:
Use MLAG for multipath loop-free redundancy without spanning tree to enable full-bandwidth utilization and high availability
Promote greater interoperability through interfaces with Cisco's Rapid Per VLAN Spanning Tree (RPVST+) and devices using Cisco Discovery Protocol (CDP)
Offer more flexibility by uniting products with the latest open standard protocols
Include advanced IPv4 and IPv6 Layer 3 routing, security and scalability features
Have plug-and-play configuration with Dell EqualLogic iSCSI storage arrays; one-command iSCSI setup alleviates multiple step configuration and potential configuration errors
Support full bandwidth Wave 2 wireless with 2.5/5GbE ports on the N3132PX-ON
Deliver clean power to network devices with PoE 60W and PoE+ support
The Dell EMC PowerSwitch N3000 Series has options for up to 48 ports of Power-over-Ethernet Plus (PoE+) without an external power supply. N3024EP-ON and N3048EP-ON are able to support up to 12 ports of 60W Power over Ethernet (PoE 60W), and up to 32 ports of PoE 60W on the N3132PX-ON. This allows you to attach devices with high power requirements (up to 30.8 watts for PoE+, up to 60 watts for PoE 60W) without running a separate power cable. Power-over-Ethernet is particularly useful in older buildings where installing power to multiple, widespread locations can be prohibitively expensive.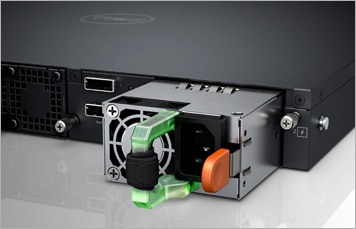 Designed for efficiency
Built to help keep operating costs down, the N3000 Series can operate at temperatures up to 113°F (45°C) to help reduce cooling costs. Features designed to improve overall efficiency include:
Hot-swappable 80PLUS-certified efficient power supply with dual power supplies option
Enough power capacity to provide up to 48 ports of PoE+ (up to 30.8 watts) in a 1U footprint
Redundant variable-speed cooling fans
Energy-efficient Ethernet and low-power PHYs to help reduce power to inactive ports and idle links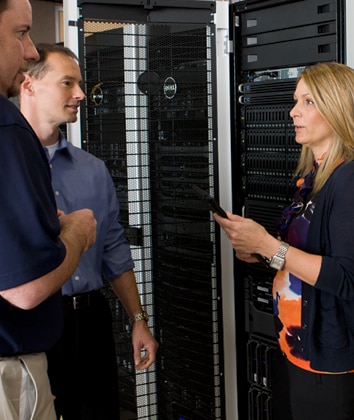 Advanced feature set to simplify management
The Dell EMC PowerSwitch N3000 Series is designed for easy deployment and outstanding interoperability. A single OS release (Dell EMC Networking OS 6) allows you to maintain consistent configurations across all N-Series products with a comprehensive feature set that includes:
One common command line interface (CLI) and graphical user interface (GUI) that use a well-known command language to help skilled network administrators become productive quickly
USB auto-configuration that helps network administrators rapidly deploy mirrored configurations to numerous devices by simply inserting a USB key
Enterprise-class features with familiar and intuitive configuration and management commands — plus the latest open-standard protocols and smart integration technologies to help make smoothly operating multi-vendor networks possible.
Deploy with confidence at any scale
With high throughput and capacity to handle unexpected workloads, the N3000 Series switches are ideal Layer 3 solutions for fast-growing GbE networks that require high-density aggregation with seamless redundancy and availability.
Data rates up to 260Gbps (full duplex) and a forwarding rate of up to 193Mpps
Hot-swap expansion module supports dual SFP+ and dual 10GBaseT
Built-in stacking ports and standard N-Series stacking cables support a stacking architecture up to 12 units at 84Gbps
Stacks up to 624 1GbE ports can be managed from a single screen or IP address
Eight multi-gig (2.5/5GbE) RJ45 ports on the N3132PX-ON