Dell 3.5-inch 8TB SATA 6Gbps 512e 7.2K RPM Hot-Plug Internal Hard Drive 400-ATKV
Technical Specifications
Type: Hard drive - hot-swap
Capacity: 8TB
Form Factor: 3.5"
Interface: SATA
Data Transfer Rate: 6Gbps
Spindle Speed: 7200 rpm
Features: Advanced format 512e
Designed For: PowerEdge C6420 (3.5"), C6525 (3.5"), R240 (3.5"), R340 (3.5"), R440 (3.5"), R540 (3.5"), R640 (3.5"), R6415 (3.5"), R6515 (3.5"), R6525 (3.5"), R740 (3.5"), R740xd (3.5"), R740xd2 (3.5"), R7415 (3.5"), R7425 (3.5"), R7515 (3.5"), R7525 (3.5"); Storage NX3240
This product is compatible with the following systems:
BSN Controller Node
PowerEdge C6420
PowerEdge C6525
PowerEdge R240
PowerEdge R340
PowerEdge R440
PowerEdge R540
PowerEdge R640
PowerEdge R6415
PowerEdge R6515
PowerEdge R6525
PowerEdge R740
PowerEdge R740XD
PowerEdge R740xd2
PowerEdge R7415
PowerEdge R7425
PowerEdge R7515
PowerEdge R7525
PowerVault NX3240
PowerVault NX440
Features and Design
Increase the storage capacity of your system with the 8TB Hard Drive from Dell. Offering a rotational speed of 7.2K RPM, this drive provides fast disk access. Featuring SATA interface, this hard drive delivers enhanced data transfer speeds.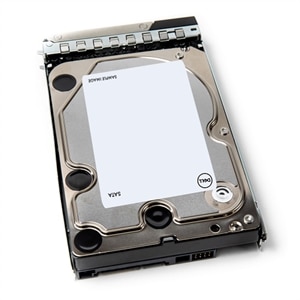 Please note the following restrictions: VMware does not support 512e or 4Kn hard drives. 4Kn hard drives are only supported on Win 2012 and UEFI boot and some Linux. 512e hard drives are only supported with Win2008R2 or greater and some Linux.
Offers - 8TB capacity to store large amount of data
SATA interface delivers high data transfer speeds
7.2K RPM spindle speed ensures excellent performance