Dell Optiplex 7010 Plus Core i7-13700 8GB RAM 512GB SSD Win 11 Pro Mini Tower PC
Technical Specification
Product: Dell OptiPlex 7010 Plus MT
Chassis type: Mini Tower
Product type: PC
Processor family: 13th Generation Intel Core i7
Processor model: i7-13700
Processor frequency: 2.10 / 5.10 GHz (30 MB Cache, 16 cores)
Internal memory: 8 GB 
Internal memory type: DDR5-SDRAM
Total storage capacity: 512 GB PCIe NVMe
Storage media: SSD
Optical drive type: 8x DVD+/-RW 9.5mm Slimline Optical Disk Drive
On-board graphics card model: Intel UHD Graphics
Operating system installed: Windows 11 Pro
Product colour: Black
Ports & Slots
1. Power Button
2. Hard-disk drive activity light
3. SD card reader (optional)
4. Universal Audio Jack
5. USB 2.0
6. USB 2.0
7. USB 3.2 Gen 2
8. USB 3.2 Gen 2x2 Type-C
9. Optical drive
10. Re-tasking line-out/line-in audio port
11. Serial port (optional)
12. 3x DisplayPort 1.4a (each up to 4096 x 2304@60Hz)
13. Optional Video port
HDMI 2.1, up to 4096 x 2160 @60Hz
DisplayPort 1.4a, up to 5120 x 3200 @60Hz
VGA, up to 1920 x 1200 @60Hz
USB Type-C with DisplayPort Alt mode, up to 5120 x 3200 @60H
14. USB 3.2 Gen 2
15. USB 3.2 Gen 1
16. USB 3.2 Gen 1
17. USB 3.2 Gen 1
18. USB 2.0 with Smart Power On
19. USB 2.0 with Smart Power On
20. RJ-45 Ethernet
21. Four Expansion Card Slots
22. Power Cord Connector
23. Power Supply Diagnostic Light
24. Release latch
25. Padlock ring
26. Security-cable slot
Dimensions & Weight
1. Width: 169.00 mm
2. Depth: 300.80 mm
3. Height: 367.00 mm
Weight (min): 5.93 kg
Weight (max): 9.63 kg
Features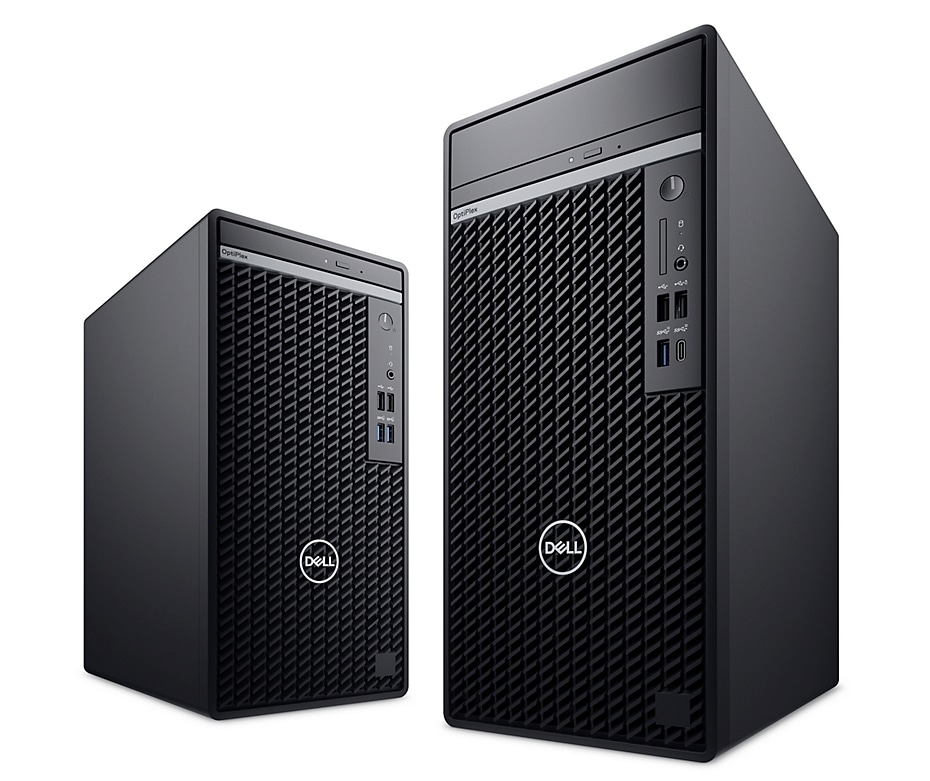 Operating system
Available with Windows 11.
Intelligence meets simplicity
Intelligent desktops for every workstyle.
Find your OptiPlex in just two steps: Select your form factor, then choose the right features for the job.
Simplified management: Our new OptiPlex desktops with 13th Gen Intel core processors feature one BIOS for All-in-Ones and one BIOS across Towers, Small Form Factors and Micro Form Factors.
Dive into rich content
Upgraded memory capacity - Up to 32GB of next gen DDR5 memory means more multitasking capabilities and smoother transitions between applications.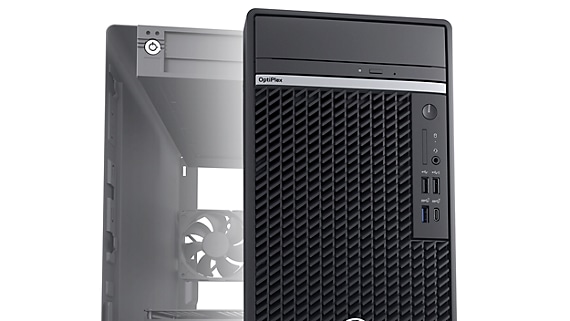 Supports 4 displays - iGFX support for up to 4 simultaneous displays with up to 4K resolution.
Immersive content - Ready for commercial VR consumption.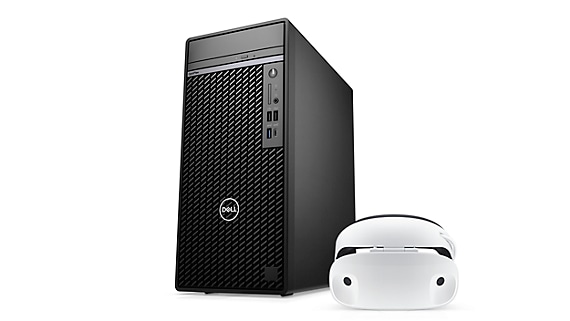 Get the most out of your OptiPlex
Immersive workflow: Work without interruption with devices that seamlessly connect and interact.
Seamless collaboration: Your OptiPlex workspace pairs perfectly with Dell Wireless Headset, Dell Speakerphone and Dell UltraSharp webcam.
Stunning views: Experience 5K resolution with optional DisplayPort.
Upgraded inside and out: Dell Optimizer, Intel vPro, and Modern Standby now available across entire lineup.
Enhancements that lead to advancements
One BIOS - New OptiPlex desktops with 13th Gen Intel core processors feature one BIOS across Towers, Small Form Factors and Micro Form Factors.
13th Gen Intel Core processors - Engineered to increase your productivity.
Dell Optimizer Built-in AI - Intuitive, personalized productivity.
Easy to manage
Seamless startup: Prepared with out-of-box Remote BIOS Management and HDD Wipe for simplified management across the OptiPlex portfolio.
Easy on IT: Intel vPro platform options deliver modern management capabilities and hardware-enhanced security.
Save time: Tool-less chassis provides easy access for service, maintenance, and upgrades.
Smart and secure
Part of the Dell Trusted Devices portfolio: OptiPlex offers protection before-, below-, and above-the-OS ensuring a comprehensive defense framework to evolving threats.
Trusted security: Keep your system safe with Firmware TPM, security lock, Intrusion switch, and cable covers.
Dell Optimizer
Intelligence built around you: Automatically personalize and boost the performance of your system and its entire ecosystem with Dell Optimizer, an AI-based optimization software that learns and responds to the way you work.
Personalized Performance: Intelligence and machine learning elevate productivity by automatically personalizing performance features across your entire ecosystem, making them the world's most intelligent PCs. 
Intelligent Collaboration: Get the world's most intelligent collaboration experience with smart audio conferencing, connectivity and productivity features – all in one software.
Safe, secure and manageable: We ensure optimization and data collection follows a stringent process to keep your information safe. Any data we do gather is analyzed locally on your system to improve your personal PC experience.