Dell USB Type-C to HDMI and DisplayPort Adapter with Power Pass-Through 470-AEGY
Technical Specification
Cable Type: Video interface converter 4K support, power pass-through
Interface Supported: DisplayPort / HDMI / USB
Length: 18 cm
Max Output Resolution: 3840 x 2160
Refresh Rate: 60 Hz
Connectors
Connectors (Second End)
19 pin HDMI Type A - female
4 pin USB Type A - female
24 pin USB-C (power only) - female
Compatible with the following systems
Alienware M15 R7
Alienware X14 R1
Alienware X15 R2
Alienware X17 R2
Inspiron 14 5000 (5420)
Inspiron 14 5000 (5425)
Inspiron 14 7000 (7420)
Inspiron 14 7000 (7420) 2-in-1
Inspiron 14 7000 (7425) 2-in-1
Inspiron 16 5000 (5620)
Inspiron 16 5000 (5625)
Inspiron 16 7000 (7620)
Inspiron 16 7000 (7620) 2-in-1
Latitude 3330
Latitude 5330
Latitude 5430
Latitude 5431
Latitude 5530
Latitude 5531
Latitude 7330
Latitude 7430
Latitude 7530
Latitude 9430
Precision 3570
Precision 3571
Precision 5470
Precision 5570
Precision 5770
Vostro 13 5000 (5320)
Vostro 16 5000 (5620)
Vostro 16 5000 (5625)
Vostro 16 7000 (7620)
XPS 13 (9315)
XPS 13 (9320)
XPS 15 (9520)
XPS 17 (9720)
Features & Design
Uncompromised productivity
Turn your port-scarce USB-C notebook to a mobile workstation with this Dell USB-C to HDMI/ DisplayPort adapter that comes with power pass-through. Its USB-C pass-through allows you to charge your laptop up to 90W while connecting to an external 4K HDR display at 60Hz simultaneously without compromising on screen performance.
Supports high-quality video output
Incorporate an extra screen into your workflow by connecting either to the HDMI or DisplayPort on the combo adapter. Plug in your 4K HDR source to your adapter and get the same lifelike, impressive visuals with high color contrasts on your 4K 60Hz HDR display.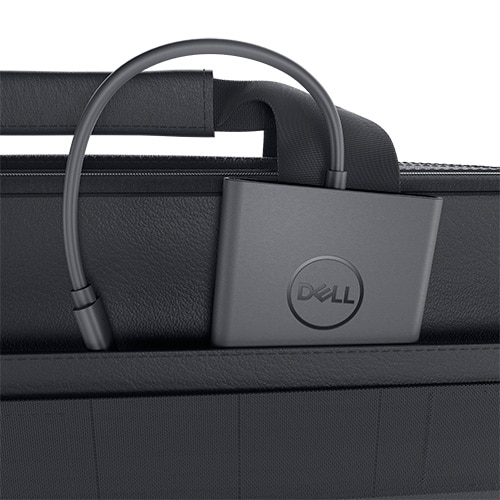 Compact, lightweight design
Slim and sleek, this adapter fits easily in your pocket or your laptop bag. The compact dimensions also ensure easy portability, so you can tote it anywhere.
Easy plug and play
Get to work faster with instant plug and play – now you can easily connect the USB-C combo adapter to your laptop without the need to install a driver.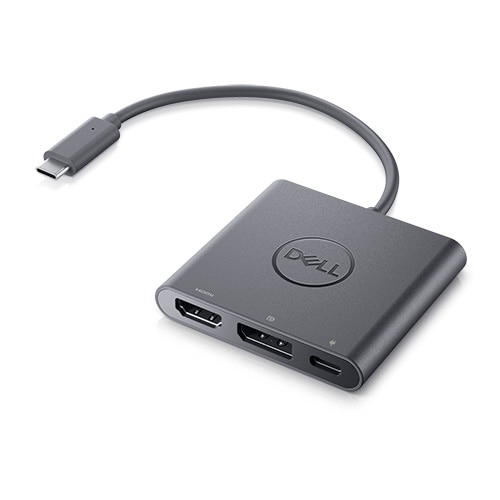 Reliable performance
A comprehensive testing regimen ensures the ports and the connectors work each time, even with daily use. Its coaxial cable enhances signal quality, keeping connectivity and reliability absolute.
Seamless compatibility
Tested and certified to work with Dell systems, this USB-C adapter adheres to USB-C industry standards and works flawlessly every time.
Compatibility
Windows, Chrome and Mac devices with USB-C or Thunderbolt ports.